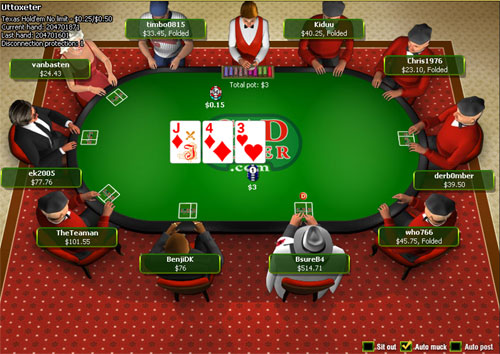 As many of our readers already know, I love to try out new online poker sites and check out the action on them. Well this month I found a great site that I think you will enjoy. CD Poker is one of the newer sites but is growing at a steady pace. The excellent deposit bonus and good player traffic are going to make CD Poker one of the top sites this year.

CD Poker (CD is short for Club Dice) is run by iPoker, the same company that runs the ever popular Titan Poker. They offer Texas Hold'em, Omaha and Omaha HL in limits anywhere from $.02/$.04 up to $10/$20. The action on CD Poker is stacked on the ring games. When I was playing, I was playing $1/$2 short-hand limit tables and I had no problem ever finding action. Seems like No-Limit Hold'em is the most popular on CD Poker, like most other sites. CD Poker really lacks in the tournament department though. I found it extremely difficult to find even a $5 SNG. They do have a lot of special tournaments like $1 WSOP tournament, a $1,000,000 GTD, Caribbean Cruise Tournament and many more.

The bonus for CD Poker is quite generous, 50% up to $500. Now that is a large bonus! Their bonuses clear very slowly but it is worth it. When I was researching CD Poker, I came across another great bonus through them. Do you want to try CD Poker? What you have no money? Well I can solve that because sponsormypoker.com is willing to give you $20 absolutely free to try on CD Poker! That is right, no deposit required, no credit card required. The only requirement is you must play 250 raked hands before you with draw. To get this free $20 go to www.sponsormypoker.com follow the instructions and enter bonus code CDFREE20FTM! I turned my $20 into close to $400; let me know how you do!

CD Poker is a very attractive looking site however it does tend to run a little bit on the slow side. The graphics are nice and crisp and the controls are very easy to navigate. CD Poker has an extensive customer support team and offers email, phone, and live chat support, however some of the agents are not as knowledgeable about poker as you'd hope they would be. One of the major things that I did not like with CD Poker, is their cash out speed. It took them nearly 3 days to transfer my withdrawal into my Neteller account.

Overall, CD Poker is a great site for all you ring game enthusiasts like myself, but you would probably never see Redfish here. Major pros for them are their large sign-up bonus, profitable ring games and the nice layout of their site. Reasons to skip CD Poker would be their slow cash out rate and lack of tournament action. So if you are into the ring games get on CD Poker and make something happen, or if you want go gobble up your free $20 and try out CD Poker. See Ya on the Tables!